I just finished for my friends baby shower next weekend.
I got the Sacque, Bonnet and Booties from the Soft Layette Set in the Leisure Arts book Crochet Collection, but I changed them a bit. The pattern called for 2 different colors and I used one and the yoke, back of bonnet and booties ware suppose to be done the the back loop SC ribbing alternating colors. Since I only use one color I just did regular SC. I also added the buttons on the Sacque, the original called for 3 ties and I didn't like the look of that. I didn't have time (plus I haven't the patience) to do the blanket, so I designed a matching pair of britches. This is the very first piece of baby clothing that I designed myself
I used Bernat Softee Baby yarn in Chiffon Print.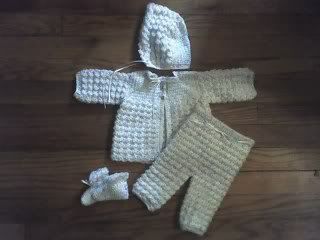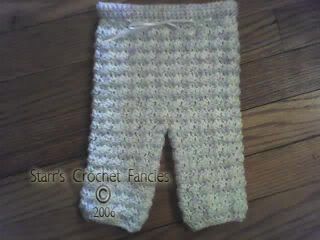 I now hope that the parents-to-be like them :D